Most people I know — especially other writers — subscribe to the "this may be good but I can do better" school of work. As a result, given the right combination of HALT (hungry, angry, lonely, tired) our minds can quickly flip over to "this will never be good enough." That inner critic can grab hold and shake our confidence like a dog with a new toy. This is part of the reason that the online #WritersCommunity flourishes: there's always someone there to be goofy or to share compliments with a floundering counterpart.
We thrive when others point out our good qualities and the things we are doing well. Compliments are some of the best gifts we can receive — especially until we learn how to provide this wonderful experience for ourselves.
That #InnerCritic can grab hold and shake our confidence like a dog with a new toy. Click To Tweet
I spent many years teaching women how to appreciate their own talents and strengths. While there are many ways to do this, one of the exercises I routinely used was called Building Emotional Muscle. Here's an abbreviated version.
Below are 45 words for positive traits:
active, determined, kind, adventurous, energetic
lively, artistic, enthusiastic, loving, aware
expressive, observant, beautiful, forgiving, open
bold, friendly, patient, brave, generous
powerful, bright, gentle, ready-to-learn, capable
handsome, respectful, caring, happy, responsible
changing, hard-working, sensitive, confident, honest
strong, cooperative, imaginative, thoughtful, creative
inventive, unique, dependable, joyful, wise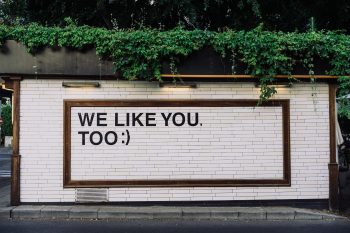 Choose your favorite 5 and list an example of how it manifests in your life.
You can also use this list with some of your online (or in-person) "crew." Tweet, text, or email an example of how each of them exemplifies one of these traits. Choose a day during the week or month to share this sort of support within that group. Eventually, each of you will have a great collection. In fact, while you're at it, why not have each group member add 10 or 15 words to the list?
One of the problems with using this sort of technique to counteract your inner critic is that many of us have a hard time accepting compliments.
Sometimes this works best if you don't compliment the person directly -- let her overhear you. Click To Tweet
In that case, here are two more recommendations. First, don't compliment the person directly — let her "overhear" you. Address your compliment for Ann to Barbara, like this: "Have you noticed the way Barbara's writing has improved? Her creativity is really shining through!" Depending on the relationships between people involved, Barbara should either not respond or can say/post a simple "thank you."
Finally, writing can be a lonely business. Comments on blog posts let writers know that someone is reading – and that alone is a great form of feedback. If you're not sure what to say, refer back to this list. It makes a wonderful starting point for sharing compliments — online or in real life!
##
Andrea Patten is the author of The Inner Critic Advantage: Making Peace With the Noise in Your Head.