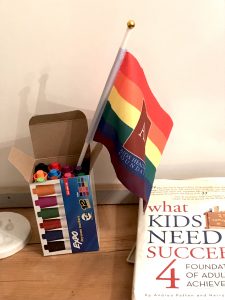 "It's Pride month and I'm the only kid in America whose parents are disappointed in him for being straight," one of ours once quipped. He knew we were not disappointed in him for any reason but probably didn't feel comfortable asking either of his parents why we celebrate Pride. We're not gay or even allies, either. I prefer to think of us as accomplices.
Just last weekend — at the request of town officials — our little Bible belt community (and new home town) held its first Pride celebration. Organizers were well aware that the purpose of the request was to change the narrative that erupted last June when a Pride flag was raised at City Hall.
First Annual Pride Celebration
Despite the challenge raised, I don't believe the council expected an event would take place; the island's first annual Pride celebration included a parade followed by a day long, family-friendly festival. And, while there were some who showed up for education, some to sneer, and others to satisfy their curiosity, protests were almost non-existence.
Why do the straight members of my family celebrate Pride? I have reasons. Click To Tweet
But why does this matter in my family? There are so many reasons, the first being our basic belief in the Christian directive to "love one another, as I have loved you" along with that part of the Declaration of Independence that speaks to the inalienable rights of life, liberty and the pursuit of happiness. For everyone. Injustice tends to piss us off.
Favorite Husband Helped Start the Pride Institute
Many years ago, when I worked in an inpatient addiction treatment center, one of my lesbian clients was going on and on about how she'd have to spend time in bars because that's where her culture was based. I told her I didn't buy it and that she'd need to connect with sober lesbians to find out where they socialized without getting around alcohol.
The following week the facility director announced I'd be running an ongoing group for our LGBTQ+ patients. Apparently, I was one of the few clinicians who did not think being gay caused addiction. A few years later, a company owned by the man known around the internet as Favorite Husband founded the Pride Institute — the country's first addiction treatment center for the LGBTQ+ community.
And while those things are important, they're not "it" for me. I went to college in a time and at a place that "gay is OK" and came of age during "the gay plague." At one of the biggest crisis points in my life, the only person who stood by me was someone whose family member had been in my "gay group" and stayed sober. And one of my closest high school friends: a gay man I'll not name here. I'll not out him, even posthumously, because that's not my part of the story. It's his.
I'll not out him, even posthumously, because that's not my part of the story. It's his. Click To Tweet
To Lift Others. To Love and Be Loved. Always.
My part of the story includes finding one another at a hormone-rife time of life, thereby removing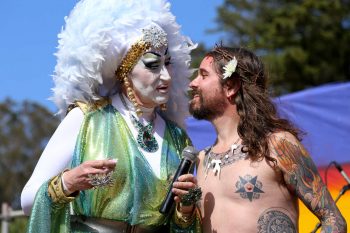 sexuality from our friendship equation, and always having fun. Always. He taught me to dance, to drive
a stick shift, to laugh off serious wardrobe malfunctions, and how to weaken the knees of almost anyone with a thousand-watt smile. I don't remember teaching him anything but, if he were here, he'd say there was something — even if he had to exaggerate. Because he was incredibly kind and went out of his way to lift others. Always.
And then he died.
It was a violent, bloody suicide. I don't know "the" reason but there were factors: first-generation American, lots of pressure to succeed, former altar boy, and possible abuse of power by one of our teachers. Maybe he had GRID. I don't know. Nobody should die because of who they are or who they love. It broke me.
So I celebrate Pride. And the right to be. And to love and be loved. Always.
###
It'a easy to tweet about this.
Nobody should die because of who they are or who they love. It broke me. Click To Tweet
Favorite Husband founded the Pride Institute -- the country's first addiction treatment center for the LGBTQ+ community. Click To Tweet
We're not gay or even allies, either. Advocates? Maybe. I prefer to think of us as accomplices. Click To Tweet