With the ability to stream TV classics from almost any era, I'm not dating myself too much when I think about Ally McBeal's quirky characters and their various adventures with theme songs. If I'm remembering correctly, there was a litigator who wasn't ready for court until he heard bells… and someone who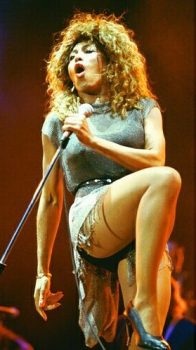 needed the attitude adjustment that came from channeling his inner Barry White. I did some work with Mark Victor Hansen, one of the Chicken Soup for the Soul guys and saw him come to the front of the room to either You're Simply the Best or Soul Man.
So I recently asked a bunch of Facebook followers what sort of theme song they might recommend for a person who had a goal in mind but needed a little extra support in the "gigantic butterflies in the stomach" department. They're some interesting folks and came up with some pretty good additions to a playlist. Or, maybe an entire playlist. You be the judge. And I've included a crazy number of links in this post; if you can stand all the YouTube ads, you can hear each of the songs.
What's YOUR theme song? Click To Tweet
Whenever I post about developing confidence or taking motivation to a higher level, I'm not surprised when Avon Superstar (also known as Captain Platinum) Lisa Wilber jumps in first. She gave us Reba's  I'm Gonna Take That Mountain.
Some of the contributors offered deeply spiritual music: Thirty-one Gifts consultant Patricia Darley chose Made to Thrive.  Roslyn Evans — the co-owner and designer of exquisite jewelry at Earth and Moon Design — is inspired by This Little Light of Mine while another artist, Heather Maria, added Walk on Water.   Rachel Keiffer, the HealthNut Girl introduced some of us to a Hebrew song called the Song of Ascents.
Some of the women turned to their spiritual sides for musical inspiration. Click To Tweet
Intuitive healer and coach Robin Ann Reid offered This is Me.  and Suzie Cheel from down under tossed Happy, as well as Israel Kamakawiwoʻole's
beautiful version of Over the Rainbow, into the mix.
And Lore Raymond from Florida's gulf side led the charge for Helen Reddy's I Am Woman.  I don't know about you, but "you can bend but never break me, 'cause it only serves to make me more determined to achieve my final goal" rings true for so many of the important women in my life. And Vatsala Shukla reminded us of another "you've got this" anthem: such Journey's Don't Stop Believing.
You can bend but never break me... Click To Tweet
When it came time to pick up the tempo, Colleen added Sly and the Family Stone with You Can Make It If You Try while Michelle dished up a little Uptown Funk.   Author Beverly Golden joined Etta James to advise:  Trust Yourself.  And we can always count on Barb Parcells to bring us classics such as You'll Never Walk Alone.  I hope you like Josh Groban's version as much as I do.
Many of these women have wonderful projects going; I've linked to their sites or Facebook pages so you can get to know them if you choose. In the meantime, I'm off to iTunes to buy a couple of these songs for one of my "you go, girl" lists!