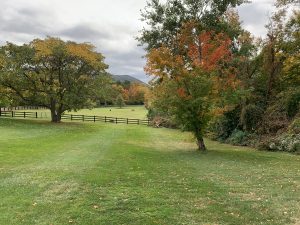 Everyone in the northeast knows where to find "that tree" — the one that shows its vivid fall colors long before the others in the area. The ones that make us sigh with both resignation and delight.They live in neighborhoods, on street corners, beside streams and ponds, mountainsides and in certain corners of certain farms. We happily look forward to the brilliant colors, country fairs and harvest festivals.
Yet upon seeing the signal trees, my imagination tends to take me on a wild ride or two. I think of "those trees" personifying the story of Paul Revere's midnight ride, "the snowflakes are coming, the snowflakes are coming." Or, closer to home, as signalers for railroad safety, asking the rest of us to pay attention to the signs of the rapid change that surround us. After all, those snowflakes tend to arrive in large groups and accompanied biting wind. And ice. Not fun.
A Change of Scene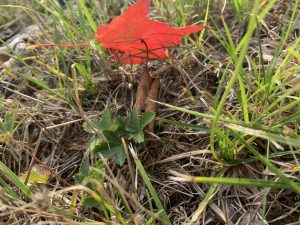 Our summertime (and now early fall) change of venue has been a gift in many ways. We have had safe and  leisurely family time — both with humans and with dogs. Well, maybe not quite so leisurely with the dogs — but it has been wonderful to let the young one run and blow off some steam. A good run usually leads to that combination grumble and sigh just before a good nap.
We have picked watermelon, cantaloupes, plums, four kinds of squash, apples, and pumpkins.  Brilliantly colored zinnias and gladiolas. Watching a sky without light pollution reminds me how long it has been since I've had such an opportunity. It was during late night dog walks when we lived beside the pond, on the mountain, in New Hampshire. I think that's when I learned to thoroughly enjoy the Perseids.
But here and now, watching the signaler tree bring a handful of others onto its timetable evokes a visceral response. Each tree seems to bring along another, gradually letting go and preparing for its magnificent death, that letting go that takes place when a breeze becomes a sigh.
Both Familiar and Unique
Soon enough the mountains start to look like old-fashioned crazy quilts — some subtle and some almost garish in their color choices before blossoming into fall foliage. Although it's like living inside of a painting, it is dramatic and spectacular and very, very normal.
Simultaneously familiar and unique, like a poem. And like so many others, Robert Frost's "The Road Not Taken" sticks in my head, whether walking in the woods or daydreaming out the window on a rainy day.
Two roads diverged in a yellow wood,
And sorry I could not travel both
And be one traveler, long I stood
And looked down one as far as I could
To where it bent in the undergrowth;

Then took the other, as just as fair,
And having perhaps the better claim,
Because it was grassy and wanted wear;
Though as for that the passing there
Had worn them really about the same,

And both that morning equally lay
In leaves no step had trodden black.
Oh, I kept the first for another day!
Yet knowing how way leads on to way,
I doubted if I should ever come back.

I shall be telling this with a sigh
Somewhere ages and ages hence:
Two roads diverged in a wood, and I—
I took the one less traveled by,
And that has made all the difference.
I'd love to hear about your reaction to the change of seasons. Does that reation vary depending on which season is in transition? Are you experiencing a breeze or a sigh? Or something else all together?