Shrimp. Little. Puny. Insignificant. It's enough to give a crustacean an inferiority complex.
Generally speaking, reading a list of words like that could make anyone feel insignificant. I guess you'll have to decide for yourself whether or not any of us shrimp can actually read. As you're about to learn, at least of few of us can spin yarns and tell tall tales.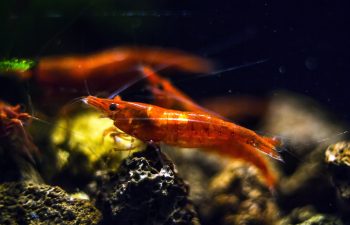 Once upon a time, a school of shrimp migrated to a small but beautiful sandbar at the edge of the Atlantic Ocean. Those of our ancestors brave, curious, and strong enough to travel some of the 13 miles from tip to tip made another amazing discovery: this fabulous little sandbar was bounded on two other sides by magnificent rivers. One was named Amelia, the other St. Mary. The topography proved to be an ideal shrimp habitat and our community flourished. Most of us are breeding machines; when the eggs hatch, it's often only a matter of hours before our females are carrying a new batch of fertilized embryos.
When We Were Fossils
A healthy, thriving community of shrimp is important for several reasons — not the least of which is the fact that when school children are introduced to fossils, our great-great-great-great-too-long-ago-to-come-up-with-the-right-number-of-greats grandparents are often in the picture. Our clan has been around for a very long time: about the same amount of time as yours has been dining on us.
Shrimp. Little. Puny. Insignificant. A wordlist that could give a crustacean an inferiority complex. Click To Tweet
Although home to many colorful pirates, Amelia Islanders are not typically thought of as a bloodthirsty crowd. But, if you're a shrimp, you'd never know it. On the one hand, we seem to have settled in a place that almost worships us and on the other? Well, just imagine how it feels to be surrounded by people who seemed so passionate about… well… us. As food. As a matter of fact, if you're feeling feisty and want to start a fight, show up at almost any Fernandina Beach social gathering and let them know you've finally found the ultimate recipe for shrimp and grits. Even the nicest of church ladies will get at least a tad huffy and set about proving you wrong. What a great way to sample a lot of mouth-watering shrimp and grits.
Eureka! We're Rich!
Shrimp is the single most popular seafood in the United States. The commercial shrimp industry generates in excess of $50 billion a year; of the nearly 2,000 shrimp species, fewer than 20 are commercially harvested. Unfortunately for folks not ideally located, a great deal of that is farmed and imported. And, as much as I don't want to endanger any of my wild-caught brethren, the polite thing to say it is the flavor is 'radically different.'
Those shrimp farms are also a factor that may make the next generation of shrimpers consider other career paths. Of course, there have been a number of coastal towns that have adopted the title of Shrimp Capital of the World, but Amelia Island's role in developing the industry leaves little doubt.
Scavengers, Snowbirds, and Swimming
The term shrimp is used to refer to some types of decapod crustaceans and, like others of our ilk, we are scavengers. However, unlike our crab and lobster cousins (and despite all those feet) we are much better suited to swimming than walking. And this makes our capture a bit different. Actually, quite a lot different. And this part of the story touches on our love of visitors from the North, affectionately know as 'snowbirds.'
This part of the story touches on our love of visitors from the North, affectionately know as 'snowbirds.' Click To Tweet
While crabs and lobsters are caught in traps, that method does not work especially well for quarry that is swimming. And, from as far back as those pictured in Egyptian tomb paintings from 3000 BC up until the early part of the 20th century, shrimpers used a seine net strung between two boats. Weighted on the bottom, with floats on the top, they moved in tandem, capturing us as they moved.
Remember those snowbirds? Well, one of them was a fisherman from Gloucester, Massachusetts — one of the great maritime communities of the Northeast. While visiting friends on the island, he saw shrimp caught with seines. He offered friends a better way: Billy Corkum invented the otter trawl net, cutting the required number of boats in half. That's the method still in use in and around the island today, where shrimpers bring us in: pink, white, brown, rock shrimp and, of course, the royal reds.
Where Did You Get Off the Boat, Mayport?
Whatever variety they first meet, once humans taste the real deal they can get pretty feisty about making sure they don't end up with any of the imposters. In fact, not long ago, a lady was giving one of our supermarket fishmongers a tough time. She had tasted 'Mayport shrimp' and refused to settle for anything else. She didn't want to hear anything about 'Mayport' being a location rather than a variety. It was as if the buyer was speaking French and the seller was speaking Farsi.
Finally, in an effort to maintain their relationship, perhaps to educate without insulting the fishmonger said, "Ma'am, they're the same shrimp — they come from the same offshore beds. Does it really matter where they got off the boat?"
She had tasted 'Mayport shrimp' and refused to settle for anything else. Click To Tweet
Amelia Islanders are pretty picky about their shrimp. They might not actually worship us, but, during the first weekend in May, it sure seems that way. For three days, the population swells by about 200,000 additional souls who pump tens of millions of dollars into the local economy. In 1964, as part of the island's Fiesta of 8 Flags, a boat race along the Amelia River provided a way for local shrimpers to have some fun and friendly competition during the offseason.  The event has since morphed into a major, regional festival using art, music, and, of course, good food — all to celebrate our relationship with the locals.
Imagine that: a parade and food and music and art — all in celebration of Amelia Island and its shrimp. Somehow that doesn't feel either puny or insignificant!