After spending several months in a lovely rental home (owned by an equally lovely friend) on St Simons Island, Georgia, we set off for a leisurely, exploratory trip north. And no, this is not a case of misheard lyrics… I know the song is Georia ON My Mind but with all the pollen around you really do NOT want me to sing.
Well, it was sort of exploratory. We made the mistake of choosing an initial destination. (It's in Georgia — I'll tell you later.) We found ourselves still goal-driven. Nonetheless, for several hours, we had the Jesup Highway pretty much to ourselves. Big skies, beautiful clouds, and *no* traffic helps turn up the volume on meandering.
Georgia Between my Ears
I've always thought that travel and adventure were a lot like other parts of life: the most important part of it takes place between the ears.
So it was kind of fun to realize we had reached the town that shared its name with the highway.  We let curiousity take the reins for a few moments and were rewarded with this bridge and the friendly-looking neighborhood we went through to quiet Siri's incessant harping, "Proceed to the route. Proceed to the route." (I'll stop. I'm a bit more flexible than AI.)
I hope I have already posted about still being a farm girl at heart. Having started a permacultured yard back on the island is the thing that helped me recognize the beautiful pecan orchards lining the roadway. Some fields were newly planted, others full of mature trees and my favorite: the mixed-age orchards. They feel like a multi-generational family.
Bringing the Family to Rural Georgia
Maybe  it's that thought or feeling that made me take notice of  the town of Roberta, Georgia. I laughed when I looked at a map and saw that the town of Byron, Georgia was a bit beyond. While I had been taking pix for my vehicle-obsessed grandson, seeing those names close together made me feel like the whole family was traveling along with us. When my son Brian was in elementary school, Byron was a nickname he received from an eccentric old man I knew. My mother's name is Roberta. 
A few moments later another generation came to mind as we sat patiently at a railroad crossing. I'm not sure I remembered to turn on the sound but the little guy will get plenty of videos featuring that very looooong train.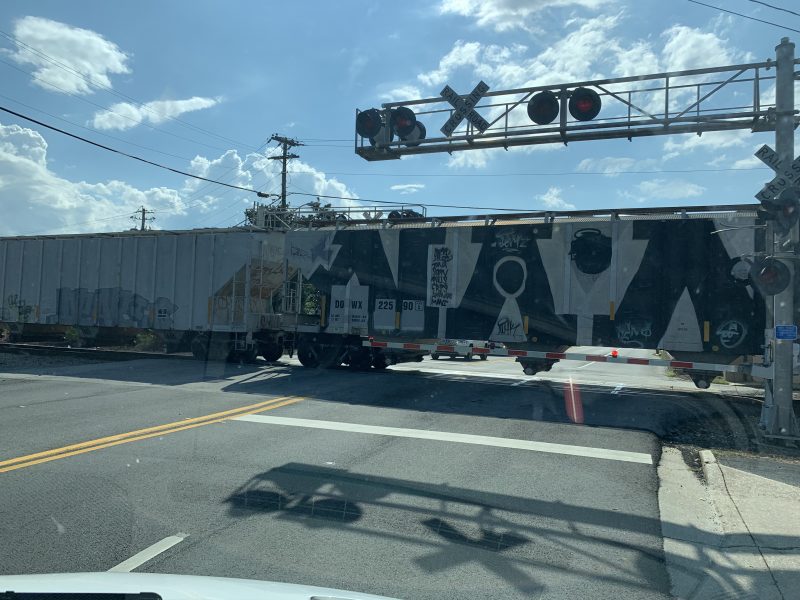 While trains figure prominently in some of our family's history, I also love boxcars as "canvasses" for street artists.
Going into a weekend in a part of Georgia that has a lot of ways for families to play together made finding dog-friendly accomodations at least a little bit challenging, so we headed to Alabama to set up for the night. (We don't have the van set up for sleeping.) Since that had not been part of the plan, I was hoping to grab a "Welcome to Alabama" sign — but the watermelon guy caught my eye.
After more driving than initially planned (lesson learned) I was not the only member of our party to be happy we'd arrived at our pet-friendly accommodation.
If you've read this far, thank you. This documenting my travels is new to me. As an Amelia Indie Author, I promise to get better at it. It's in our organizational DNA.
I'll be adding links to some more detailed experiences here, so if you love Georgia, check backfrom time to time.