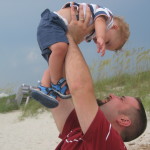 How many of us approached parenting with all the love in a plan like this?
We know for sure that OUR children will never feel "apart" from other family members. They will always understand how very wanted they are and this will create a closeness unlike  other families we know. They will be happy because we understand them so well.  Their basic needs will be so well-provided for that they'll be able to direct their energies toward passions like sports, the arts and, of course, their educations.  They will excel. And, of course, this overflow of love will inspire them so much they will gladly share their prized possessions with their siblings….
That optimism is a wonderful thing and reflects the almost overpowering unconditional love that parents can feel.  It's a love that motivates us in ways that are hard to understand. It makes us want to do the impossible. It can also be a little scary and make any one of us a touch crazy.
[Tweet "Love can also be a little scary and make us a touch crazy."]
We hover and helicopter and try to control every interaction in our children's days.  It's almost as if we have come to  believe that discomfort equals disability and that letting our kids learn from trial and error (their own — NOT ours) will bring about permanent injury or harm. Fantasy and reality don't quite match up.
This morning I heard a woman speaking about one of her most embarrassing moments. Unfortunately for her? It was televised. (Yes, fellow introverts, my skin is crawling and I've got giant butterflies in my gut just from imagining typing that.) The speaker was one of those remarkable, outgoing, super sales-y direct sales people who used the story to explain the role of failure in her life. Her embarrassing, unprepared-for-TV-moment never, ever came around again. In fact, it taught her to treat many other moments as if she were about to be beamed onto millions of screens all around the world. Good lesson, no?
[Tweet "Reality isn't always pretty; it's probably pretty darned close to perfect"]
What does this have to do with loving your kids? Reality isn't always pretty and it's probably pretty darned close to perfect. Relax.
Think about the things you know for sure.  How easily did your own big lessons come to you? If you're anything like me (and this morning's speaker), I'll guess at least a few of those important life lessons came as a result of a big belly flop off of life's high diving board. Splat! Unfortunately, lots of life's best lessons come to us that way.
To grow as parents we are required to grow as people —  the lessons we model through the way we live our lives carry much more weight than the ones we try to create with rules, words or even our well-intended fantasies.
[Tweet "Can we trust that our love — in all of its' messy imperfection — is perfect enough?"]
It's painful to watch kids struggle, but let's be realistic.  Can we love them enough to put our own feelings aside? To let our kids be kids? Can we trust that our love — in all of its' messy imperfection — is perfect enough?
##
Today I am a "Love Ambassador" for my online friend, Intuitive Psychologist, Dr. Debra Reble and her newest book. We're celebrating the release of Being Love: How Loving Yourself Creates Ripples of Transformation in Your Relationships and the World just released by Inspired Living Publishing.  Order your copy today and receive over 50 gifts from Debra and her community.  www.BeingLoveBook.com