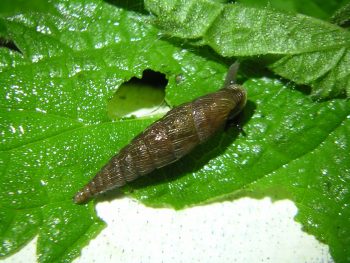 But, while I try to farm organic, I'm starting to think the garden slugs and sugar ants are going to drive me to defoliants and DDT. Soon. Did you know that, while benign-looking,  those slugs can eat the living hell out of young plants? They make holes. Big holes. They're almost as destructive as deer.
And ants? When they're outside, they are wonderful. They build healthy soil many times faster than earthworms and here in the sandy South, that's something to appreciate. But, for the first time since we've been here, there's a variety that appears to have decided that being out in the sun isn't healthy and that underground living isn't for them. They're coming into the house. Ewww.
As I said, at this level of frustration, my first impulse is to turn to the heavy chemicals. But I know that's not good for the people or the (invited) pets who live here. So later today I'll be using glass jars with holes poked into their tops to make sugar and borax filled ant traps. Slower but safer for Favorite Husband and my four-footed loved ones.
But what about the free beer? The short version is that, just like their human counterparts,* garden slugs like beer — the cheaper and nastier the better. Free beer is best. These guys are going for quantity over quality.
Free beer is best. These guys are going for quantity over quality. At least they die happy, right? Click To Tweet
The like it so much that they will dive into little containers just below the surface of the garden soil to have a drink.  The problem (for them anyway) is that there are no bar stools in the little containers: they are slug-sized vats and, to have their own little keg parties in my garden, the critters need to hop in. Directly into the beer. And they drink and drown and die. (Why do I always think about my ex when I set out beer traps?)
At least they die happy, right?
*Disclaimer: I refer here specifically to the Original Bad Boyfriend and other lazy sponges I've known in my time on the planet. This does not apply in any way to more civilized folk. In fact, some of my favorite people are beer drinkers.