A week ago I was writing about Valentine's day. Maybe it makes sense, then, that today I'm trying to make sense of the heartbreak known as "another school shooting." It is crazy that our students are no longer safe in their schools and that our country seems so polarized about this issue. I've tried to write about it before and always come up short so today I'm sharing some of my questions about school shootings.
How is this "not a gun problem?" Yes, I know there is a 2nd Amendment. Yes, I know the country is full of responsible gun owners: I grew up around them and have had some firearms training. I was married to a USMC sharpshooter. I am not a "snowflake" who thinks we should collect all the guns. But flatly stating "it's not a gun problem" closes off discussion and begs another important question: why does any civilian need an automatic (or semi-automatic) weapon? And while I respect those who describe a weapon as a tool, I wonder if our students, teachers, concert, and movie-goers would fare better against other "tools?"
And what about the two words that are supposed to explain everything? "Mental health." Sane and rational people do not commit mass murder; the vast majority of people with mental illness do not commit heinous crimes. There are few resources for people (especially kids) with complex, hard to manage issues. Despite all of the political talking heads squawking "mental health" they continue to cut budgets for services. At the same time, most private health insurance is expensive and restrictive.
How is this 'not a gun problem?' I was married to a USMC sharpshooter...
Click To Tweet
How is a good guy with a gun supposed to overcome the heavily-armed lunatic we've thought about in the previous two questions? Weren't there highly trained (and armed) capital police present when the senators' baseball team members were shot?
Isn't this discussion too political? There was a time in the not-so-distant past when "political" did not mean "anyone who disagrees with you is an enemy to be destroyed." Besides, doesn't everything have a political component?
Here's one that really bugs me. "Why wasn't it reported?" As in Parkland, FL the shooters' bizarre behavior and violent threats HAVE been reported. Frequently they are known to local law enforcement officials. If they haven't been arrested it's simply because their behavior had not yet met a criminal level. A number of our elected officials have seen fit to blast the FBI for this latest tragedy. But speaking of the Constitution? I'm fairly certain that even the feds can't arrest someone before they commit a crime.
I don't have answers; I know the solution is not simple. But I can't help believe that consistent, small actions are better for our culture than believing there is nothing at all we can do.
The Parkland students and their activism is inspiring. Full of sorrow and rage, many of them are old enough to vote and they are motivated to make a difference. Their leadership and courage is an important piece of the puzzle. While there are many trying to silence them, we can share and amplify their message.
We can send messages of love and support to students who lived through the MSD shooting. Here's the address:
Stoneman Douglas High School
5901 Pine Island Road
Parkland, Florida 33076
Any of us can contact our state and federal representatives and let them know it is past time to make sure our students are safe in schools. We can urge them to regain some of their objectivity by returning any monies they've accepted from the gun lobby.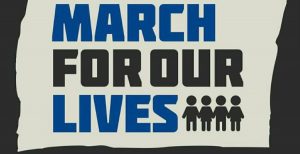 We can support students who are #MarchingForOurLives. Let's not take over, organize, or attempt to speak for them but instead, use these events to hear our kids' concerns about their safety and their futures.
Let's not take over, organize, or attempt to speak for our kids but use #marchforourlives to hear their worries about safety and the future. Click To Tweet
How about finding out what sort of mental health resources are available in your community and finding out how to help someone access them? Are they available to people without private insurance? Is there a waiting list? Is there more intensive treatment available if necessary?
Finally, please learn about the relationship between domestic violence and gun deaths. The #Parkland shooter had reportedly been violent with his former girlfriend. He is not the first mass shooter with this sort of history yet when victims of domestic violence go public with their stories far too many of them are not believed or supported. Many domestic violence programs need volunteers, supplies, and money. Any one of those is welcome, I'm sure.
SaveSave
SaveSave
SaveSave
SaveSaveSaveSave
SaveSaveSaveSave
SaveSaveSaveSave
SaveSave
SaveSave
SaveSave
SaveSave