What is NaNoWriMo? Is it a new erectile dysfunction drug? A political party? A space alien? And what is a NaNoWriMo rebel? Is it dangerous? Actually, it's a shorter way to say National Novel Writing Month — a crazy, fun event that runs through the month of November. And, most of us rebels are pretty darned harmless.
The free, internet-based writing challenge began in 1999, with fewer than two dozen participants. The idea is to write 50,000 works (aka a lousy first draft) between midnight November 1st and 11:59 on the 30th. For some of us, 50,000 words is a pretty good stretch. I understand that for fiction-writers it's novelette length.
Is NaNoWriMo a new erectile dysfunction drug?
Click To Tweet
I'm not a novelist. I've been writing non-fiction for most of my life, only fairly recently transitioning from corporate and copywriting assignments to books. Shortly after moving to a mountaintop in northern New Hampshire to be with the love of my life, he handed me a newspaper article about the thing. I'm not sure I'd have found it on my own. Always one to "try stuff," taking advantage of our relative isolation made sense to me. I had no idea what I was getting into but, after winning the first year I was hooked. With the exception of the year Favorite Husband and I moved twice between October 1st and December 1st, and maybe the year of the multiple surgeries I've done it every year since.
And I WON!!! Almost every time. (If you're not familiar with NaNo,NaNo, please don't get too excited about the "winning" thing. It simply means that along with about a kazillion other people, I completed my 50,000 words!)
So why would your average, nondescript author of only two non-fiction books (and a whole bunch of blog posts) spend her time rolling around in novel-writing stuff? Is NaNoWriMo a good idea for a non-fiction author? And how does it work on the years I don't even bother to try to write fiction. (That, by the way, in the parlance of the site, makes me a NaNoWriMo REBEL!  A non-novel writing writer committed to cranking out 50,00 words in another genre? Yep. That's a NaNoWriMo rebel. Yee-ha! I love being a rebel without a clue. I've done it a time or two before — in different disciplines. Usually it works for me.)
How can novel writing be good for non-fiction authors? Ask a #NaNoWriMo participant. Click To Tweet
This crazy-fast, smash words approach might not be for everyone but for me, it works like this:
The event helps me ignore the end of Daylight Savings time
It loosens me up. It's hard to "write tight" when you're going for quantity
My family re-connects with the fact that I sometimes disappear into writing and editing — especially when I've been editing for a lot of other people
 I feel more creative. Trust me, I've got to make up some stuff in a hurry if I'm going to hit my daily word count. All before my second cup of coffee.
The process gives me permission to fail… not on a quantity level but it is one time that I can try to care a little bit less about the quality of what's coming off the tips of my fingers.
It makes a huge dent in the paralysis of analysis. It's a lot easier to edit a crappy first draft than a blank screen
And, oddly enough, by letting go of the end result I am able to create a draft that may — someday — develop. The Inner Critic Advantage: Making Peace With the Noise in Your Head has some roots in NaNoWriMo and the endless community discussions about that wicked Inner Editor!
One year, (on November 28th) I took a friend to her outpatient surgery visit. She was appreciative and apologetic and worried about me getting any work done. Given that this was the third time that month I had been her designated driver, I was able to reassure her: medical waiting areas are wonderful places to jack up the ole word count — especially as a NaNoWriMo rebel trying to get a few blog posts drafted. When I took her back for a follow-up visit she asked how I was coming along with my goal. I was delighted to report that I had finished — more than twenty-four hours ahead of the deadline. I am a winner! (Phew!)
Medical waiting areas are a wonderful place to jack up the ole word count. #NaNoWriMo Click To Tweet
I think it was the year that we hosted more than twenty members of our precious extended family for Thanksgiving, that seemed to raise more questions than ever. There were family members who wanted to know why I participate. There were others who were more excited about the layers of paper covering the kids table and Grandrea's great collection of colored pencils at every place. Still another kept asking why I don't do 1,667 new words every day, all year long. (Note to self: is a careful look at the guest list in order? That one is definitely not my favorite relative.)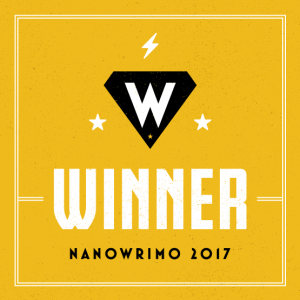 Look what they sent me: "You, wonderful author, spent this past November unleashing your creative powers, fighting back inner editors, and teaming up with thousands of writers around the world. We're incredibly proud to welcome you to the NaNoWriMo winners' hall. Congratulations on your superheroic achievement!" Is it strange that I find motivation in this sort of thing? Or in the comments that sometimes appear at the end of my blog posts?
It's almost 6:00 a.m. and I've got a word count waiting, so, here in no particular order, are some of my past (and present) NaNoWriMo revelations.
I am fascinated by creativity and brilliance. The idea behind #NaNoWriMo certainly encompasses both. The project's geometric growth is proof that there are LOTS of people who appreciate creativity and brilliance.
#NaNoWriMo exists to promote literacy. In addition to this crazy 50,000 sh*tty first draft in 30 days there are a number of ways the group seeks to encourage writing (and reading) in classrooms around the world. Actually, this seems like it would be a very good collaboration for the Amelia Island Book Festival or any other group that purchases books for classrooms. After all, isn't writing sometimes the result of a love of good books?
Permission. Once upon a time, I have a brief but powerful conversation with one of the well-known authors headlining our local book festival. He asked a few questions and said, "You have permission: go ahead and write the one you can't stop thinking about." That memory, combined with the November  mantra "quantity over quality," helps me uncover many of the" things I think I think." I don't know which ones will ever see the light of publication but it doesn't matter. This is something I do because it makes me better at my craft.
I love the generosity and creativity of the #NaNoWriMo team. There are pep talks by well-known authors  and virtual rewards all month long and, seriously: who doesn't like being referred to as a winner and superhero? (That's the sort of language they use — even for the NaNoWriMo rebels!)
It's a stretch goal that is — for whatever reason — important to me. I enjoy the gratitude and appreciation I feel each time the website's massive "official word count validator" says "Congratulations — you did it!" It may be weird but it is what it is.
I now look forward to returning to our regularly scheduled programming: which includes some slow and focused editing, possibly sleeping in past 5:00, and maybe a slightly smaller daily word count.
My award-winning title The Inner Critic Advantage: Making Peace With the Noise in Your Head was conceived during a #NaNoWriMo Click To Tweet
##
Andrea Patten's award-winning title The Inner Critic Advantage: Making Peace With the Noise in Your Head was conceived during a #NaNoWriMo… and while she was working on a crappy first draft this month? Stay tuned!
SaveSave
SaveSave