A good friend and I recently swapped some writing services, including reviewing one another's bios for a new project. I was pleasantly surprised when she picked up on something I've been doing for fun: over on Instagram, I've been including lots of dog pictures and have introduced the hashtag #AdviceFromAlex something you may have also seen on my Facebook Author Page. 
You can follow me in either of those places if you like. I love seeing friends in multiple locations around the internet.
Alex is a deaf dog who came to us about five years ago. And, while he's taught me a lot that has made me a better dog handler, I really enjoy the rest of his lessons. I hope you do, too.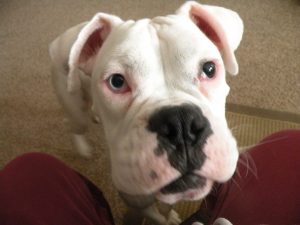 Always be as open as possible. Look around. Be curious. People can't know you if you're shut down, secretive or seem sneaky. Openness is a form of honesty — what you see is what you get. Besides, sometimes the humans get confused and think you're asking for a cookie! That often works out well.
Openness is a form of honesty -- what you see is what you get. #advicefromalex Click To Tweet
By the way, if you're confused by hashtags please ask about them in the comments. Many of the folks who follow my blog understand them and explain them very well. Or you can start with this post called Social Media with FLAIR.
Help out around the house you live in — laundry is a good place to start. And sometimes you get to try on clothes that belong to other people. (Oh wait. You probably think I'm not a people. We debate about that around here sometimes.) When helping with laundry I recommend sticking with the air dry stuff already on hangers:  the humans can get kinda grumpy when I help dry their black clothes or use the folded stuff as a pillow.
Don't miss the details. I don't hear so I use my eyes a lot. I notice things others don't necessarily see. I was excited when I first met my furever family: they noticed my heart-shaped nose right away. Of course, if you ask their obedience instructor, I apparently get excited about everything. What's wrong with enthusiasm?
What's wrong with enthusiasm? Click To Tweet
Paying attention can lead to lots of great photo-bombing opportunities. And helping your friends. On this day, our friend Nigel was helping Mom by taking a new author photo for her last book. She is kind of shy so I thought a picture of both of us would be better. They didn't use it but I still like the picture.

And, being naturally photogenic can lead to modeling opportunities. Here's one of the ads I did for one of Mom's books. I wanted to make sure people whose brains are kicking their butts know that she had made something to help them. She likes helping people.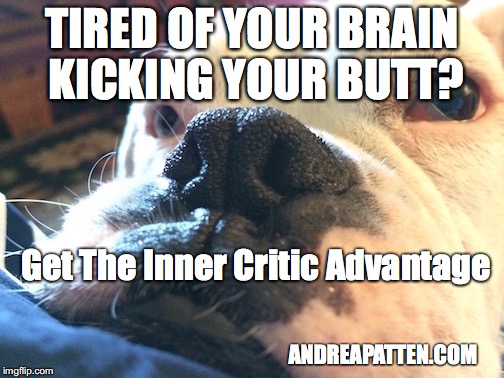 Have you ever learned anything from a dog? Do you like Alex's advice? Which one is your favorite? Let me know in the comments — someone here will read them to him.
SaveSave