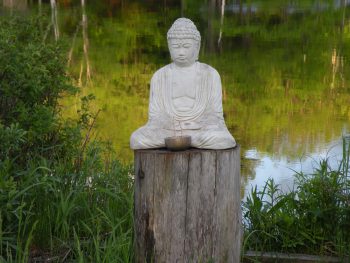 Inspiration. What does it mean to live an inspired life? It's a phrase that can bring to mind images of artists, monastics, and martyrs. It also makes me think of sweeping the floor and tending my weeds.
I think the phrase got stuck in my head the other day when one of my friends referred to another as an inspiration. Word nerd that I am, I was intrigued: my friend the inspiration has a serious breathing disorder and one of the definitions of "inspire" is "to breathe in." In fact, the word dates back to about 1300 when it meant "to breathe upon or into" or simply "to breathe." Today I am thinking about the relationship between inspiration and breath in our day to day lives.
She's an Inspiration
What does it mean to live an inspired life? Click To Tweet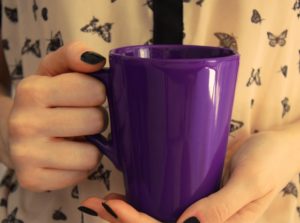 Spending time with other writers and artists, I hear a lot of talk about "inspiration." It can sound magical and mystical; it can appear impossible to achieve. Sometimes we sound like we're sitting around waiting to be hit by the inspiration stick.
Hit by the Inspiration Stick
I don't think I'm alone when I say my ability to produce quality work ebbs and flows. I'm not always happy enough with what I'm writing to share it with you — even here. I think that has more to do with my personal standards than a lack of inspiration.
I don't want to sit around waiting to be hit by the inspiration stick! Click To Tweet
The other day a colleague told me she considered my first book  What Kids Need to Succeed  "inspirational."
Apparently I was silent for too long.  She went on to explain that, although she thought the book contains good and useful information, she believes that its greatest value is to provide support and inspiration to parents… especially when they doubt or question themselves.
I was only quiet because I was moved.  Deeply moved.  Frankly, it's hard to imagine something better than throwing a virtual life preserver to a drowning parent and helping them to shore.  (Except maybe for those parents to not to feel like they're drowning in the first place.) Speaking as both a formerly single parent and an author, I can't think of a better compliment.
Speaking as both a formerly single parent and an author, I can't think of a better compliment. Click To Tweet
Throwing a Virtual Life Preserver
Being a parent can bring us face-to-face with some of the most powerful versions of anything we feel:  love, pride, joy, fear, self doubt.   Many people are fortunate to have had great parents to show them the way.  Others have to work much harder to extract the value from some of their early lessons. Buttons get pushed.  People hurt.
But feelings aren't facts.  They can be a valuable source of information. Sometimes we need help to translate our feelings to thoughts that can be more useful to us. By the way, a little reminder: one does not have to be a parent to feel overwhelmed in the face of a seemingly impossible task. It can happen to authors and artists, sales people, and those facing physical or medical challenges.
What if "I don't feel like I can do this" means:
I need support
I don't know how to ask for help
I'm taking on a big challenge
I've never done anything that matters more
I'm in pain
I need to improve my skills
I'm going to get more training
I'm looking for a mentor
I want to make sure I'm looking at (and compensating for) my "blind spots"
Sometimes We All Need Translation
But what if "I don't think I can do this" means you've got the open-mindedness and willingness to be great? What if it means you have something inside of you that wants you to go beyond any of the pictures you currently have? What if you're in the process of establishing a new normal?
What if "I don't think I can do this" is a signal that there's something inside, yearning for more? What if it has to do with being great?
Click To Tweet
"Breathe in. Soften. Go a little deeper." I'm new to yoga and fascinated by the various instructors' descriptions of breath and the ways they coach us to be aware of it. Maybe that's part of what has me thinking about inspired life.
My husband goes on silent meditation retreats. Silent meditation is another place where 'breath' takes center stage. I'm told that counting breath is a way to re-center, to come fully into the present, and to stop thinking.
Some of my friends paint. I write. And occasionally try my hand at other forms of art: redacted poetry, multi-media painting, landscape design. It all feels connected.
What's Your Jam?
I also just finished reading Painting Life by my friend Carol Walsh. It's a memoir about balancing her life as an artist with her life as a therapist. And about the endless process of reinventing the self. Her book made me wish I had known more about both self-care and reinvention when I was a young therapist and advocate. I burned the candle at both ends, pushing beyond comfortable limits both at work and at home. I rarely said "no." It took time to see that I short-changed everyone — especially myself. Eventually, I learned to embrace both self-care and personal evolution. Maybe there is no "wrong." Maybe there's only "next."
What if the fact we have breath means we are inspired? Click To Tweet
What if inspiration only meant "breath?" Does the fact that we have breath means we are already inspired? Could inspired living simply mean using our breath? Using our lives in the best way we know how? Is it really all that simple? How do we best use that precious gift?