By now we all know that Wonder Woman possesses superhuman strength and speed.What are YOUR super powers?
Ellen Elwell has some Mom marketing mojo under her superwoman cape, and Linda Joy's Visionary Female Authors all seem to have some special magic related to women and their personal power. But, in my humble opinion, none of us can hold a candle to Mattisa Moorer, also known as Kerstin's Mom.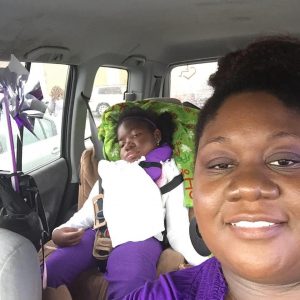 Shortly after Kerstin was born, she was diagnosed with Spastic Quadriplegic Cerebral Palsy, Epilepsy, Hip Dysplasia and lung-threatening Scoliosis. When she was 13, she weighed just 40 pounds, necessitating a permanent GI (feeding) tube.  Almost three years later, after multiple surgeries, she is a healthy 80 pounds, but will never be able to walk, talk, or take care of herself.
The greatest act of faith some days is to simply get up and face another day. - Amy Gatliff Click To Tweet
On a typical day, Mattisa and Kerstin pile in and out of their 16-year-old SUV countless times as they go to work, run errands, or visit with family members.
Even more important, are the non-stop appointments with Kerstin's doctors, therapists, and other medical specialists. They live in a small, rural town, so no trip is "nearby." The closest cities are  Selma, Montgomery, and Birmingham – 35, 45 and 125 miles away respectively. On "appointment days" they can easily add 250 miles to an odometer that already reflects more than  300,000 miles of back-breaking work. It's tired — and is not equipped with a wheelchair lift.
Mattisa lifts her now 80-pound daughter into and out of her car seat all day long. It's a difficult and frightening task: multiple surgeries fused Kerstin's spine, and a bad jolt could put her back in Children's Hospital of Alabama.
They are in desperate need of a newer vehicle with a wheelchair lift. But, as Mattisa says, "buying one is a million miles away from our "budget." I'm a single mom with a limited income. I have a part-time job that lets me keep Kerstin with me; her medical needs just don't leave enough hours in the week to work full-time. A wheelchair-accessible van would answer most of our prayers and be, literally, a life-saving miracle for Kerstin."
I "met" Mattisa and Kerstin by way of my long-time Twitter-friend Ellen Elwell. Like many of you, Ellen and I share a passion for helping moms who face extra obstacles. Ellen wrote to ask for help creating an online "buzz" for Mattisa's fundraising campaign.
We realize the importance of our voices only when we are silenced. — Malala Y. Click To Tweet
Being a parent is rarely easy, but can you imagine lifting an 80-pound girl in and out of a broken-down, 16-year-old, broken-down van all day, every day, year in and year out?
Mattisa and Kerstin desperately need a van with a wheelchair lift. It would change their lives more than you can imagine.
In her note to me, Ellen was clear this was not a request for money. Maybe it should be: Can we find 1,000 people to chip in $30 each?
Our power is in our ability to decide. — B. Fuller #wheelchairvanforkirsten Click To Tweet
This is an incredible opportunity to reach out with love and any super power you may possess: share this story with your followers, contribute $5 and ask others to do the same, write your own blog post about the power of sisterhood, share a great idea, connect Ellen or Mattisa with a foundation or a creative and generous auto dealer, or help spread the hashtag #wheelchairvanforkerstin.
The possibilities are endless. Let's combine our super powers and see what kind of miracles we can make.
Mattisa's GoFundMe Page http://bit.ly/2qU4MoY #wheelchairvanforkirsten Click To Tweet
SaveSave
SaveSave
SaveSave
SaveSave
SaveSave
SaveSave