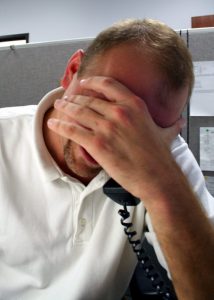 Dear John Customer Service,
I don't mean to be petty, but I need to get this off my chest:   after the pain you've put me through, I don't think our relationship can recover.   I suppose I could try to "be the bigger person" and say "it's not you, it's me" but that's just not true.  You've been bloody awful.
Shhh.  Just hear me out.  I already know you're part of a major national mobile phone service provider.  You're a big deal.  I get it. It's just not working out between us and, frankly, if I had another alternative, I would change providers.  The best I can do at the moment, however, is to break up with your customer service department..
[Tweet "The best I can do is to break up with your customer service department"]
We have been together for over a year and, frankly, it has been a tough one. Limp signals. Premature call drops.  I know "it happens to everyone sometimes" but the rest of the relationship just isn't strong enough to hold me.
There's no easy way to say it:  we need to stop seeing one each other.
You see, when I finally get desperate enough to ring you up,  you rarely "get it" on the first try. I call and ask you for what I pay for, burning up one of my precious hours: pressing "1," holding, chatting, waiting, begging for it…  I've come to see that, in the world of cell phone service providers, romance and reality are pretty far apart.
And even THAT might be OK…  but…
You're a stalker.
It seems that my hour with you, dear Customer Service,  is never enough.  I can't satisfy you.  When I think we've resolved an issue and I don't have to deal with you again you follow up with a survey.  If I answer it honestly (No, I really won't recommend you to family and friends — because I like them) you send another.  When I tell you the truth and politely ask to be left alone what do you do?
You escalate.  You call me.  Repeatedly.
The bottom line?  I pay you for a service.  When you don't deliver what you've promised? I drag myself through a customer service call.  As far as I'm concerned, when your (all very lovely) representatives promise to fix things?  I believe them.  That's it. Game over.  Don't freakin' call me.
You say you'll change… You say you need information… But we've been here before. Let me be clear: our contract in no way obligates me to waste my time providing you with… well, anything. I am not on your payroll.  My only obligation to you is to pay my bill.
[Tweet "You say you'll change… but we've been here before."]
And, at the risk of generating one more call from you?  No, I will not tell you if I'm planning to spend time with @AT&T, @Verizon, @Sprint or @T-Mobile.  It's really not your business.
So, Customer Service, I think a clean break would be best for us all.  I've blocked your number and moved on. I hope you do, too.