I rarely marry the concepts of 'celebration' and belonging to professional groups, but there is one such group that seems to push me to unexpected boundaries and edges. Earlier this week another member of the group asked the rest of us whether we were taking enough time to celebrate our wins. I quickly responded that such a review was a regular part of my year-end reviews and promptly forgot about the conversation.
Celebration in the Draft File?
Sometimes life calls bullshit. Sometimes, when updating a website, an author will come across posts that never made it to publication. Perhaps they were not up to her usual skill level. Maybe the idea that seemed so compelling in Paragraph One ran out of juice a few lines later. Or maybe the thoughts hanging out in the "draft" folder just seemed a little too self-congratulatory.
That's where I found these — in the draft folder. I almost put them back. There are other, more important things to write about, right? But there are situations that have had me thinking about celebration. I'm a big fan of this little book and all the people it has helped me connect with since it first came out.
Sometimes life calls bullshit. If I'm honest? Sometimes I forget. Click To Tweet
Do You Look at Your Wins?
Was it, in fact, lack of love and attention to my very own inner critic that stopped me from sharing these lovely thoughts with you? Could be, but I really don't think so: I've just been lazy about looking at my wins. Like so many of my women friends, I set goals, work hard to achieve them, smile… and just move on. Sometimes I forget the celebration.
So here it is: a celebration of The Inner Critic Advantage. And, as I put together this post full of kind words from friends, I am picturing each of them raising a glass and toasting the people who are making peace with the noise in their heads.
To your health!
I am picturing each of them raising a glass and toasting the people who are making peace with the noise in their heads. Click To Tweet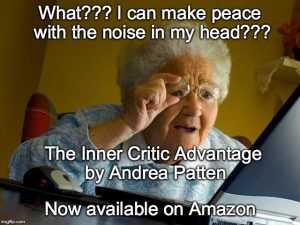 "What makes this book so special? Important information about the autonomic nervous system presented in an entertaining, user-friendly manner so it can help us on a daily basis."
— Dr. Kevin Lin
"In The Inner Critic Advantage, author Andrea Patten invites us to explore the possibility that the critical voice in our heads can become ally and friend and then she shows us how to do it. Practical, insightful, wonderfully humorous, and, ultimately, full of "wild wisdom," this book will change lives."
— Terri Clements Dean, psychologist, author, Traveling Stories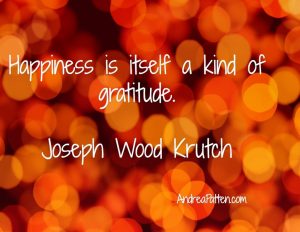 "As an artist I've got to acknowledge my inner critic and accept her as part of who I am. By doing that she actually becomes helpful. Fabulous!"
— Bonnie Jayne O'Keeffe, Bonnie Jayne Art
Explore the possibility that the critical voice in our heads can become ally and friend... Click To Tweet
"Andrea doesn't just deliver great advice and innovative strategies. She gives her readers gifts that few authors offer: compassion, respect and love. She really wants them to thrive, and that comes through in every line of this warm, wonderful book."
— Tim Vandehey, co-author, Produced By Faith and The Wait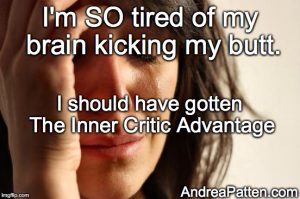 "Everyone has an Inner Critic. In The Inner Critic Advantage, author Andrea Patten explains how to work with your biology and turn that endless supply of self-directed criticism into an unbeatable advantage."
— Linda M. Lopeke, Smart Start Coach
"Thought-provoking and liberating—a balm for creative souls."
— Barbara Bond, author, The Beach Walkers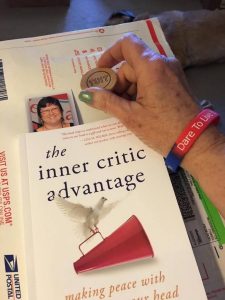 "To continue to grow in all areas of life, I believe you need to make a study of the things that surround you. Certainly the "voice in our head" is one of those things — maybe even the most important one. This book goes a long way toward helping us understand its origin, triggers and what we can do to insure that voice is a gift and not a curse. Well worth the read!"
— Lisa M. Wilber, Avon Platinum Executive Leader, sales trainer & author
**
Andrea Patten has managed to love her inner editor long enough to publish  The Inner Critic Advantage: Making Peace With the Noise in Your Head a little book full of big ideas about how — and why — you can learn to love "that voice."