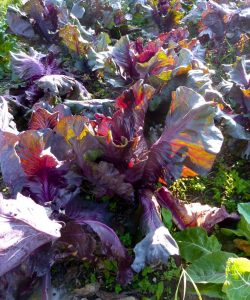 What does compost have to do with happiness?  For me, quite a lot.
It wasn't long after an ugly split-up that the composter came into my life.  It was a beautiful top-of-the-line, cream-colored, "four-on the floor, dual-carbs" kind of barrel –  with a handle.  The queen of composters. Alone in a house I was renovating mostly by myself the compost barrel was a bit of a footnote: some of the yard waste, kitchen scraps and other bits of happy garbage were turned into food for my blooming perennial yardscape. That was about as far as it went.
[Tweet "What does compost have to do with happiness?"]
When I left the life of a contented single, I sold that house to move to the mountains of northern New Hampshire with the love of my life. Turns out I had fallen for a guy whose fascination with compost had been a rich source of embarrassment  and eye rolling for the people who had grown up in his care.  None of them were surprised when my honey and I made a special 7-hour roundtrip to be sure the magic composter made the move to the mountains with me.  Besides, the guys in the moving truck wouldn't take it.
[Tweet "The plan? Care for earth, care for people & return surplus."]
In the mountains of northern New Hampshire I met permaculture, a form of "gardening" that embraces a philosophy of working with nature.  I'm still a beginner, but I love the guidelines: caring for the earth, caring for people and returning surplus. When I grow more than we eat I share with friends, critters and neighbors.  Instead of poisoning the ground I'm learning to let various predators handle the pests.  I was able to shred each and every moving box and add them to the soil. No waste.
Nothing ever has to be wasted.  What a wonderful metaphor for life experience.  That's not easy to remember in the painful times.
[Tweet "Nothing ever has to be wasted."]
While it's hard not to label experiences "good" or "bad" nothing we learn from is ever wasted.  It's an attitude shift that can even transform scraps of rotting food in to nourishment for the garden and for our lives.
See? Compost makes me ridiculously happy.
Related articles